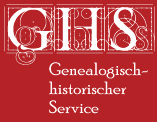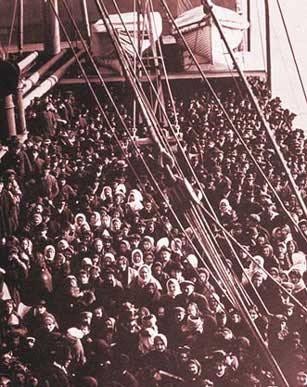 Dedicated to finding your ancestor from among millions of emigrants.
The emigration lists preserved in the State Archives of Hamburg represent a unique source of information about the more than five million people who left Europe via this port between 1850 and 1934. They record the last place of residence. These lists are in the process of being transcribed and made available and are accessible through an on-line data base for 1890-1906. GHS undertakes research for those years which are not yet available on-line, and offers additional genealogical services. GHS provides you with the name, departure date and final destination of the ship, but more importantly, with the age, occupation, marital status and last place of residence in Europe of your ancestor, and other family members traveling together. Fee per hour: 35 Euros
A reproduction of the passenger list is available on request.
Further research concerning your ancestors can be undertaken on an hourly basis after negotiation: fee per hour 35 Euros.
I can look for and reproduce pictures of emigrant ships, when they were based in the port of Hamburg. Dimensions are ca. 4.4 x 6.3 inches. Larger reproductions may be available depending on the size of the original pictures (further information on request).
Price per picture 20 Euros
What if my ancestors
didn't come through Hamburg?
Emigration lists for Bremen (more than seven million persons) were unfortunately destroyed. The DAUSA (Forschungsstelle Deutsche Auswanderer in den USA) in Oldenburg has however an extensive collection of US arrival lists on microfilm. GHS has its own library of arrival and other lists, including hard-to-get, out-of-print works as well as standard publications. This includes the 1855 Antwerp departure lists, and scattered references to emigrants via Bremen from various books and articles.
Before 1892 the majority of U.S. lists do not contain a last place of residence for European immigrants. This gap can sometimes be bridged by referring to German requests for permission to emigrate and other documents. Here too the GHS has its own collection, not to mention access to a wide variety of German gazetteers, city directories and lists of inhabitants. Fee for a search 20 Euros
The GHS further plans to transcribe various unpublished records. Watch for notification of the results on the GHS web site.
Hamburg genealogical research
I can also undertake genealogical and biographical research for you for your ancestors originating in Hamburg and surrounding area (Altona, Harburg). Sources include church and civil registers, street and business directories, military records or passport applications.
Prices:
Research: fee of 35 Euros per hour.
Transcriptions: fee of 25 Euros.
Reproductions: 25 Euros per document.
Prepayment is required for the first hour of research.
Please note: no records are available for the first half of 1853
If you have any questions about my services, feel free to call or E-mail me.
I will be glad to advise you.