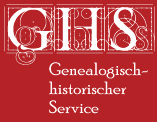 MEMBER OF THE HAMBURG GENEALOGICAL SOCIETY
MEMBER OF THE HAMBURG SOCIETY FOR JEWISH GENEALOGY
Lectures:
Museum für Kommunikation Hamburg, 8 February 2004
'Jetzt ist die Zeit und Stunde da, wir reisen nach Amerika'
German Emigration through Hamburg in the Nineteenth Century
(in connection with the exposition "175 Years of Transatlantic Postal Service")
Newberry Library, Chicago, USA. 8 May 2004
The Rise of Hamburg as an Emigration Port
(in association with "Link to your Roots" and the Hamburg Office of Culture)
State Archives Hamburg, 20 January 2005
Panel member of podium discussion on professional genealogy organized by the Hamburg Genealogical Association.
Hamburger Staatsarchiv, 3 June 2006
The "emigration panic" begins – Jewish emigration via Hamburg before1880
under the auspices opf the Hamburg Society for Jewish Genealogy
April 22, 2006
I am extremely pleased with Mark's genealogical research services. He was very responsive to my requests and directions. He proved to be efficient and highly effective, producing results that suported my research interests and goals, all within my budget. To sum it all up, Mark did an excellent job -- he is very goal-oriented and customer-focused. I would recommend Mark for anyone pursuing their ancestry in Schleswig-Holstein and Hamburg.
Jim Roewer
Herndon, Virginia, US
April 7, 2006
I would like to recommend the services of Mark Rosen to those requiring genealogical research in the Hamburg, Germany area. In the research he did for me in March 2006, Mr. Rosen demonstrated great skill in locating the pertinent documents, deciphering old scripts, & translating them. Also, I was extremely impressed with the efficient manner with which he carried out his research. Mr. Rosen's knowledge of what information could be obtained from the various archives enabled him to supply me with extra information that I hadn't even known was available.
I am very grateful to Mr. Rosen for his invaluable assistance. It would have taken me years to accomplish what he did in a few weeks and I highly recommend him.
Anthony D'Agostino
Memphis, Tennessee

9 November 2005
Dear Mr. Rosen
Again, thank you so much for looking. Also, thank you for the web address. I will recommend you to those I know who are looking for their ancestors. You were very prompt with your services and very clear with your explanations.
Gary Ramsey
Dickinson North Dakota

Michael H. Freericks
Deputy representative of the Free Hanseatic City of Bremen to the European Union
Avenue Palmerston 22 B-1000 Brussels
Tel. 0032-2-230.27 Email: freericks@bremen.be
Concerning: Mr. Mark Rosen, MA, employed at "Link to your Roots" (Beschäftigung und Bildung e.V. Hamburg)
I became acquainted with Mr. Mark Rosen, MA, researcher for "Link to your Roots" in the course of the first half of 2003, when I requested that genealogical research be carried out concerning my own family as well as for the families of two Brazilian friends. The initial information that we were available to provide Mr. Rosen with was unfortunately very partial and even, it turned out, incorrect. Nonetheless, Mr. Rosen succeeded in obtaining all the desired information, thanks to necessarily complicated and extensive research conducted in archives in Hamburg and in Bremen/Bremerhaven. It is clear that he did this research both quickly and precisely, since we rapidly received the wished-for information, as well as our additional requests (reproductions of passenger lists and of emigrant ships), and we were completely satisfied with the results.
I communicated with Mr. Rosen by e-mail and by letter. His replies always came without delay, and their style demonstrated a friendly, client-oriented attitude. It should be also be said that the times at which Mr. Rosen sent off some of his E-mails demonstrated that he did not have an office-bound "9-to-5" conception of his work.
Through my professional activities in Brussels I have occasional contact to U.S. citizens. As a result I became aware of two American families who were interested in their German ancestors and/or their emigration. I recommended both Mr. Rosen and "Link to your Roots" to them. In both cases, after obtaining results, the families concerned praised the research carried out by Mr. Rosen highly.
I would be glad to answer any additional enquiries concerning the work carried by Mr. Rosen.
Brussels, 23 September 2003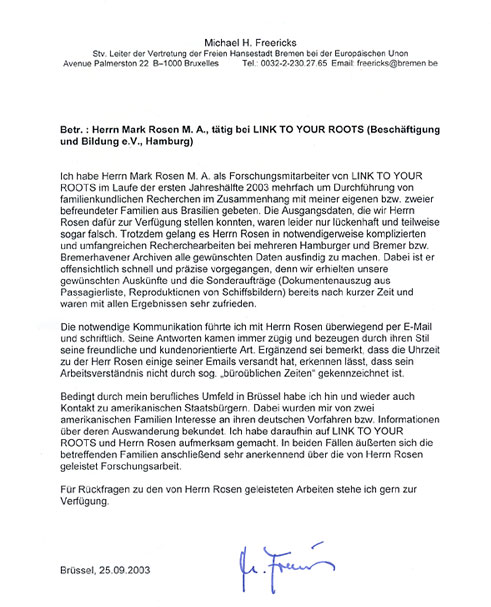 Go to reproduction of the original letter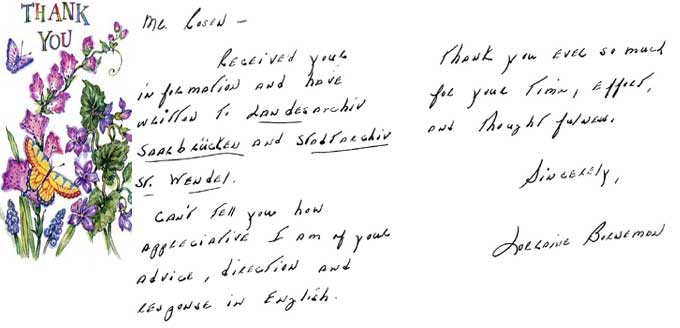 Mark Rosen
studied early modern European history at Boston University and Columbia University in New York. He speaks fluent German and French. He has collaborated with the Hamburg "Link to your Roots" project and given talks about German emigration history in both Hamburg and Chicago.